Kevin Kern's Imagination's Light
Kurty Photography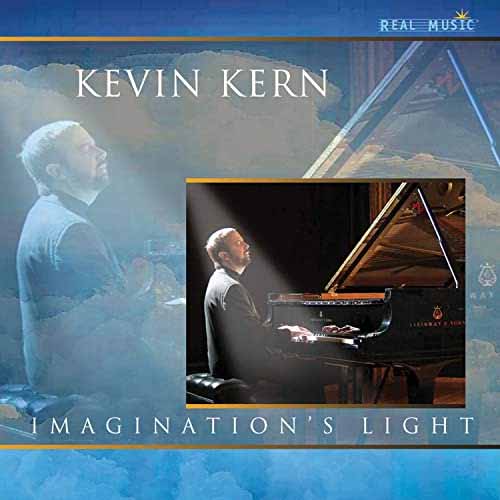 The moment when Kevin Kern - the well-acclaimed, top of billboard chart in New Age genre music artist walked into my studio, my eyes brightened up. I've been a fan of his music and have bought his CDs. It was such an honor to photograph his headshots for publicity photos.
Kevin was wearing a $5,000 custom-tailored Armani suit and holding a white cane. It wasn't until that time I noticed Kevin was born visually impaired. He had difficulty seeing where my camera was. So I simply directed him to point his eyes in the right direction. I incorporated his white cane in the shot, and it helped create a powerful and dramatic portrait that portrayed his character.
A year later, Kevin was recording his seventh album and asked me to do a photoshoot of him by the piano at Fantasy Studios in Berkeley, CA. I vividly remembered how challenging it was to set up the lighting. The music studio's background was pitch black, the Steinway piano was gloss black, and Kevin's suit was matte black. Separating the all-black elements with my Speedotron studio flashes and highlighting Kevin in the image took me nearly an hour to accomplish. Kevin didn't seem to mind as he played his music on the piano as he patiently waited. For me, it eased my pressure while I had the privilege to listen to a personal concert.
When I returned to my photo studio to edit the images, I felt the images still lack a bit of contrast. So I photoshopped a stage light pouring down on Kevin. The result was quite fascinating, I thought.
Initially, Real Music, the record company had no intention of featuring their music artists on the album cover. Coincidently, the album was titled "Imagination's Light" and the image with an added stage light was a perfect fit for the theme. Real Music ended up using the image as the album cover. And I was surprised as I didn't even know the title of the album while I was shooting.
One year I was traveling to Asia. While browsing through the music CDs in record stores in Taiwan and China, I was happy to find Imagination's Light CD on the shelf. Kevin is well known in Asia and has performed tours worldwide.
Years have passed, as I became friends with both Kevin and his wife Pamela Gibbs. I was moved to read Kevin's post on Facbook describing how the photo I took of him holding a white cane invoked a powerful expression. Here's what Kevin wrote:
This was the first professional photo that featured me holding my white cane taken in the early aughts. Before this, I never thought of my cane as something that could help me project strength and confidence. In fact, I often used to try and hide my blindness whenever I thought I could just as a way of trying to fit in. This photograph, taken by a dear friend and talented photographer Kurty Wong ( Kurty Photography )gave me a new sense of pride in my image as a blind person who uses a white cane. It is a vital part of me, who I am, and I'm immensely proud of that. It does not limit me, it simply explains a part of me to others.